Who are Singapore Airlines?
Singapore Airlines is a flight provider that can take you to as many as 130 different popular destinations. You could fly to South East Asia, North Asia, West Asia and Africa, the South Pacific, Europe, and America. At present, due to the pandemic, there is a reduced service in operation. You should get in touch to see if your desired location is currently available. They are one of the many airlines that allows you to take your pet with you on your travels so there's no need to leave them at home!
It's important to note that there is a temporary ban on dogs entering the United States from places with a high reported rate of rabies. You can find out more information about this ban on the Centers for Disease Control and Prevention website.
On-board the Flight
When making a booking with Singapore Airlines for your pet, you will have the option to have them go as checked baggage or in cargo. Depending on the country you're travelling to, they have specific restrictions when it comes to travelling with your pet. It's best to check with them directly to make sure you're up to date with what is allowed.
As long as your pet is at least 3 months old, you can choose the option for checked baggage which means you can be closer to your furry friend. However, to be able to choose this method, your pet and its travelling kennel will need to be under 32kg.
As with many airline providers, Singapore Airlines do not permit the travel of brachycephalic (snub-nose/flat-faced) dog breeds. A few dogs that fit into this category are:
Mastiff
Akita
Shih-Tzu
Boston & Pitbull Terrier
Pug
Boxer
There are a lot more breeds of dog that have made the list. You should check this on their website or by giving them a call to see if your dog will be accepted.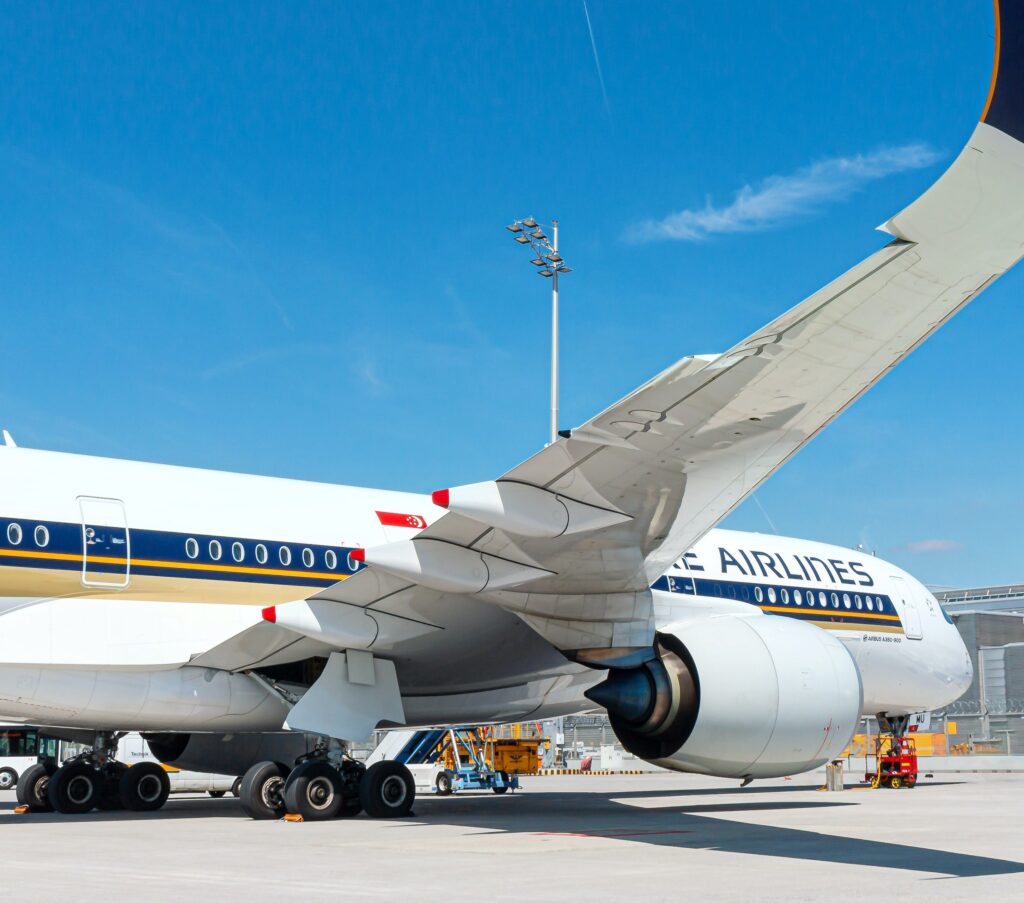 Travelling kennel requirements
It's important to note that most airline companies will not accept a travelling kennel that is not considered safe and secure. It's best to think about using a kennel that is approved by the International Air Transport Association (IATA). You will need to make sure that there is sufficient room inside the kennel for your pet so that they can stand up, sit, lay down and turn around if they wish to. Depending on the length of your flight, your pet is going to be inside the container for a long time, so their comfort is really important. Take a look at the IATA website if you're unsure of a suitable kennel for your animal.
If you're travelling with multiple pets, they won't be accepted if they aren't in separate kennels. The only exception would be if you had puppies or kittens from the same litter that are over the age requirement of 3 months and weigh no more than 14kg combined.
Important Documents
To make sure you're well prepared, ensure that your pet's passport is up to date with all the latest vaccination information, microchipping details and manufacturer, any import and export documents, and certifications that your pet poses no threat of rabies. If you're going to be importing or exporting into/out of Singapore, you need to make sure you've applied for the correct Animal & Veterinary Service license. You can read more about this on the Singapore Airlines website.
You won't be able to travel if your pet isn't in good health or is not fit to travel on the day of departure. Make sure that your pet is sufficiently hydrated before the trip and a water container is supplied inside the travelling kennel. You can also place one small toy inside to make your pet feel more comfortable for the duration of the flight. Be sure to put the name of your pet on the outside of the container.
At the check-in counters, you'll need to submit your Release & Indemnity Form with any other up-to-date documents. It's advisable to check-in at least two hours before the time of your flight to ensure everything is completed as smoothly as possible.
Price of Travel
Depending on the amount of luggage you already have, your pet may be included in the free luggage allowance. However, if you exceed this you will need to pay separately for the additional weight as this is how the cost of your pet is worked out. The route will also be factored into the amount you will pay. If you're travelling in or out of Singapore, you may need to pay additional charges which are available to view on the airline company's website.
Current flight deals can be viewed on their website. However, for a booking with a pet, you will need to make a call directly to the booking office.
When to Book our Flights
Singapore airlines request that you book at least 2 weeks in advance if you're travelling with your pet to make it as stress-free as possible. You can do this by getting in touch with your local Singapore Airlines office. At this stage, they will request all the information relating to your pet such as the breed, age, name, colour, and weight. For pet travel booking, contact ourselves for arrangement!
Temperature Control for Your Pet
The cargo hold can be booked for your pet by calling your local airline office. The hold will be temperature controlled so there's no need to worry about your pet being too cold during the flight. If the temperature is predicted to be high outside, you should consider making a booking later in the day for the comfort of your pet and to prevent any potential health problems such as stress/anxiety.
Summary
Singapore Airlines can facilitate your pet travel needs by giving one of their local offices a call 2 weeks prior to travel. They'll be able to run you through any changes that have been made to flying concerning the current COVID-19 pandemic. To make sure you haven't forgotten anything before your trip, make sure you check out their pet checklist!