The Pet Passport System in the UK
In the UK a pet would need a passport in order to be able to travel out of the country, to enter the UK or a different country that accepts pet passports and if your pet leaves the UK to visit a 'listed or unlisted country' and then travels back to the UK. Pet passports were introduced to make travelling with your pet easier than ever before! Having a pet passport also means your pet usually does not need to spend time in quarantine.
What is a pet passport?
A pet passport is an important document that details all the vaccinations and medical procedures your pet as had. It is a record of your pets health and evidence that your pet is in a fit enough condition to travel to and from the country.
Listed and Unlisted Countries
As previously mentioned, it is not just the UK that accepts pet passports but also:
1. Andorra
2. Azores and Madeira
3. Canary Islands
4. French Guiana
5. Gibraltar
6. Greenland and the Faroe Islands
7. Guadeloupe
8. Iceland
9. Liechtenstein
10. Martinique
11. Monaco
12. Norway
13. Reunion
14. San Marino
15. Switzerland
16. Vatican City
These countries along with 'listed' countries means travelling in and out of them with your pet passport is a lot easier. These countries include:
Antigua and Barbuda, Argentina, Aruba, Ascension Island, Australia, Bahrain, Barbados, Belarus, Bermuda, BES Islands (Bonair, Saint Eustatius and Saba), Bosnia-Herzegovina, British Virgin Islands, Canada, Cayman Islands, Chile, Curaçao, Falkland Islands, Fiji, French Polynesia, Hong Kong, Japan, Malaysia, Mauritius, Mexico, Montserrat, New Caledonia, New Zealand, Russian Federation, Saint Maarten, Singapore, St Helena, St Kitts and Nevis, St Lucia, St Pierre and Miquelon, St Vincent and The Grenadines, Taiwan, The former Yugoslav Republic of Macedonia, Trinidad and Tobago, United Arab Emirates, USA (includes American Samoa, Guam, Northern Mariana Islands, Puerto Rico and the US virgin Islands), Vanuatu, Wallis and Futuna. Travelling with pets in and out of 'unlisted countries' is usually more difficult and complicated. Make sure you check carefully the requirement of such countries if you are travelling to them.
How can I get my pet a passport?
Certain vets can issue pet passports, or they can give you advice on where else to get one. You can also contact the Animal and Plant Health Agency who will be able to direct you. You will pet will also need to be microchipped, if it is not already, for it to be eligible for a passport. In order to get the passport, you will have to take your pet, it's identity and vaccination documents, medical records and rabies results to the vet.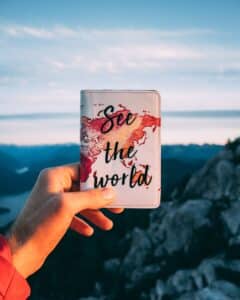 What is the best time to get my pet a passport?
Time is key when sorting out your pet's passport. Certain countries require specific vaccinations and therefore enough time needs to be allowed to have these done. Additionally, if travelling to a county not listed above your pet with need to have a rabies jab and a blood test which needs to be done at least 1 month after the first jab. You will then need to wait another 3 months before your pet can travel. Additionally, you will need to leave enough time for your pet's passport to be issued, which can take longer at certain times of the year.
Also, it is best to leave yourself enough time to thoroughly check over your pet passport documents and that it contains the right information. The information required should include: details and description of your pet, details of the owner, current vaccination evidence, microchip number and details of your vet. Sometimes it is advised to take your pet's previous passport if this contains prior tests. Your vet can advise you on this.
What if my pet's passport is not correct?
If you have not provided the correct information or your pet has not had the correct vaccinations then there is the possibility your pet could be quarantined. In some cases this can be for up to 4 months. Also ,you may have to leave your pet behind if a problem is discovered before you leave. Be careful as to the amount of pets you are travelling with. Pet passports can only be used with up to five pets, any more than this and a new set of regulations have to be adhered to.
Beware – the UK could be leaving the European Union very soon and therefore rules are likely to change!