Hong Kong's flagship carrier, our local favorite. If you've made it your mission to travel with your pet and have decided to travel with Cathay Pacific as your flight provider, there are a few things you'll need to check. Most of this information is available on their website but you can always get in touch by telephone before your flight.
Planning for Your Trip
First of all, let's cover the basics. It's essential to make sure you've planned your route and travel arrangements once your flight lands.
Travel Kennels
You'll also need to make sure you have a suitable travel kennel for your dog. There are many articles online on how to create your own from hard materials. However, the best option is to use a professional dog relocation service to communicate with Cathay Pacific to ensure your dog is properly strapped in for their flight.
Only dog travel kennels made of solid fibreglass, rigid plastic, or metal with strong welded metal mesh will be accepted. Wood cannot be used for dog kennels with this airline. Any travelling kennel made entirely of welded mesh or wire mesh is also not suitable for air transport.
The travelling kennels must also be easy for staff to handle and provide the handlers with protection from being harmed by the animals.
Something important to note is that Cathay Pacific will not accept a pet and container that together weight over 32 kg (70 lbs.) in combined weight or 203 cm (80 in) in total dimension without prior approval.
Pet Passports
Also, make sure your pet's passport is all up to date with all their vaccinations, microchipping information, and import documents to make your trip as smooth as possible. Having all this present and accounted for will make your booking with the airline provider much quicker.
Cathay Pacific's Approach to Pets
As mentioned on their website, Cathay Pacific prides itself on looking after your pet as if it were their own. They make comfort and security their top priority when using their services.
Your pet will need to be transported via the following methods when using this airline.
Cargo (to the rear of the plane with the heavier, larger pieces of luggage). Or,
Check-in baggage (your pet flies as excess baggage by paying for additional luggage separately from your booking).
Some breeds of pets will not be permitted to travel using Cathay Pacific's services. This is not a full list, and you will need to check this in greater detail on their website.
Breeds that are not accepted:
Brachycephalic dogs (flat-faced) – these are breeds such as the English Toy Spaniel, Dogue De Bordeaux, Shar Pei, Mastiff of all kinds, Pug, Chow-Chow, Bulldogs, and Boxers.
Fighting breeds – America Pitbull, American Staffordshire Terrier, Japanese Tosa, Fila Brasiliera, and Dogo Argentina
Brachycephalic Cats – Burmese, Exotic shorthair, British shorthair, Himalayan cat, Persian cat, and Sphynx cat.
Korean Squirrel
Skunk
There may be more restrictions due to the coronavirus so please ensure that your pet is suitable to travel by calling before your booking.
Be aware, if any part of your itinerary is operated by another carrier, your pet will not be able to travel as excess baggage or cargo.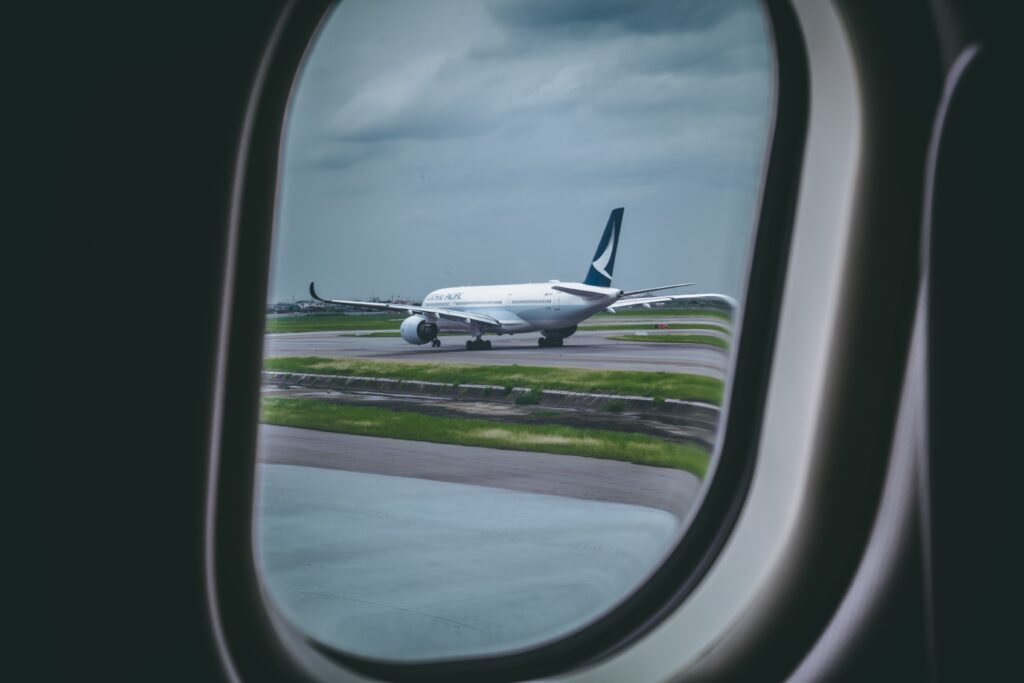 Important Information Before You Travel
It's important to contact your local reservations office at least 48 hours before your flight to confirm your pet's reservation. You should make sure you have the following information about your pet:
Total weight of the pet and its travelling kennel
Dimensions, material, and brand of the container
Up to date and registered health and vaccination certificates, entry permits, and other documents required by the country of entry or transit. (Learn more about these requirements at the Customs, Currency & Airport information section of the IATA Travel Centre website).
It's crucial to make sure your pet is healthy and well-hydrated. If the total journey time exceeds 12 hours, you must be able to provide water for your pet.
Your container needs to be of a good standard to travel. It should be clean, lockable, escape-proof, and leak-proof, with good-sized pet holes to make sure your pet can breathe comfortably. Your pet needs to be able to stand, turn around and lie down naturally. It's important to make sure your pet is comfy!
Water Holders
All pets must have a non-spill water holder with a good supply inside, this needs to be inside the travel kennel, with outside access for filling.
The water holder must be open on the top and securely attached to the bottom of the travel kennel, allowing the pet constant access.
Water bottles attached but without a water holder inside the travel kennel will not be accepted.
How Much Will It Cost?
The cost of travelling with your pet will vary depending on which zone you intend to fly to and where you are flying from. Please check the Cathay Pacific calculator on their website for an exact price. The price will be determined by the total weight of the pet and its container.
As stated on their website, if your pet is travelling as excess baggage, the transportation fee is not covered by your free baggage allowance.
As not all countries accept pets travelling as excess baggage, please contact your local reservations office to confirm your pet can travel this way.
If you need your service dog to be with you at all times, Cathay Pacific welcomes you to bring it into the passenger cabin with you. Any other type of pet will need to travel by the normal methods, however.
Conclusion
Cathay Pacific is considered a pet-friendly airline. They will do all they can to make sure your pet is as comfortable and secure as possible when using their services. All they ask is that you arrive 3 hours in advance at the airport with your pet already ready to go in its suitable travelling kennel and they will take care of the rest for you. As soon as you arrive, they will ensure that your pet is reunited with you for onward travel.