Cat and Dog Relocation & Shipping to Hong Kong
Moving to a new country involves a great deal of organization, packing, unpacking and settling in. Are you moving to Hong Kong with a dog or cat? At Ferndale Kennels and Cattery (based in Hong Kong), we like to try to ease as much of the stress as possible when it comes to relocating and settling your pets, however large or small. We hope that our assistance can give you the information you need to help both you and your pets to settle just a little bit quicker. We are the experts at Hong Kong pet relocation!
Like many countries, Hong Kong has rules to protect itself from the spread of contagious or zoonotic (transmissible between animals and people) diseases. In particular Hong Kong is rabies free and so the rules below help to protect this status.
Which country is your pet coming from?
This is important as it decides if your pet will have to go into quarantine or not. Hong Kong groups countries in to 3 groups, with regard to pet relocation and pet immigration. See these 3 groups for Pet Import to Hong Kong as this is the key thing about importing dogs or cats to Hong Kong.
Group 1, if coming from one of these countries, pets do NOT need to go into pet quarantine, providing you have fully followed all the terms of the Hong Kong Pet import permit. These countries (in alphabetical order) are:
Australia, Fiji, Hawaii, Ireland, Japan, New Zealand & United Kingdom
Group 2, animals relocating from these countries are also free from quarantine, if you perfectly follow all the terms and conditions of the HK import permit. The pet import terms are different for the three different groups. Puppies and kittens can only be imported at the age of 5 months or older from places on this alphabetical list.
Austria, Bahamas, Bahrain, Belgium, Bermuda, Brunei, Canada, Cayman Islands, Cyprus, Denmark, Finland, France, Germany, Gibraltar, Guam, Iceland, Italy, Jamaica, Luxembourg, Maldives, Malta, Mauritius, Norway, New Caledonia, Papua New Guinea, Portugal, Seychelles, Singapore, Solomon Islands, Spain, Sweden, Switzerland, The Netherlands, Taiwan, USA (continental), Vanuatu, Virgin Islands.
Group 3, This group contains all the other countries not listed above in groups 1 or 2! These pets on arriving in Hong Kong have a 120 days quarantine. Quarantine spaces in Hong Kong for dogs and cats are unfortunately currently very limited, and are booked up months in advance – so do expect to wait 5-7 months for an available spot.
What vaccinations are required for pets shipping to Hong Kong?
Rabies vaccines- If your pet is from what's called a Group 2 or 3 country (see above), then your dog or cat must be given a vaccine for rabies between 30 days and 12 months before entry into Hong Kong. Your pet must not be vaccinated before 90 days of age as that would be considered too young.
Annual vaccines- Pets coming from all country locations need these vaccines. All dogs must be vaccinated against canine Distemper, infectious canine Hepatitis as well as Parvovirus. All cats must be vaccinated against feline panleucopaenia (infectious enteritis) and cat flu (feline respiratory disease). Annual vaccines, whether for dogs or cats, do need to be done between 14 days and 12 months before entering Hong Kong.
Microchip?
All dogs and cats must be microchipped either with the ISO 15 digit or AVID 9 digit chip. Make sure these are implanted before or on same day of rabies vaccination. Dogs being transported to Hong Kong will get a new AVID microchip at Hong Kong Airport, if they don't already have one of these pet microchips inserted.
Animal Health Certificate for relocating to Hong Kong?
The details of what's needed on the Animal Health Certificate for Hong Kong, are spelt out in the import permit terms. Bringing pets to Hong Kong needs certain Certificates which need to support the permit terms for each Country group.
Hong Kong Dog License?
This is not something you need for pet travel to Hong Kong, This is something required for dogs staying within Hong Kong. This licence will be provided for dogs at the Cargo Terminals on arrival, by the government staff. All groups of dogs get this licence, unless your pet is from Group 1 and under 5 months of age. Cats don't need Hong Kong licenses, only dogs. Not sure what a dog licence is? see the information here for a picture.
Import Permit?
Do I need an Import Permit for importing pets to Hong Kong? YES. Dogs and cats cannot be brought into Hong Kong (either as a transshipment/ transit through Hong Kong, or for Hong Kong as the final destination) unless an official Special Permit to do so is obtained in advance from the AFCD, which is the relevant Hong Kong Government department. Permits need to be applied for in Hong Kong by hand, there is no online application system. Contact us for more information or for us to help you apply. It takes about a week to apply for a Hong Kong pet import permit- it cannot be done online, we always do it in person at the Hong Kong Government offices governing pet import permits.
Is there pet Quarantine in Hong Kong?
Yes there is quarantine, however if you are coming from a Group I or Group II country or place as listed above, there will NOT be pet quarantine as long as the documents and vaccination records and permits and health certificates are correctly done.
Hong Kong Pet Transit Permit?
Ferndale can help you apply for this permit if you are travelling through Hong Kong to a different final destination with your pet. A transit permit is required for pets transiting through Hong Kong, onwards (or from) with their owners to China or Macau.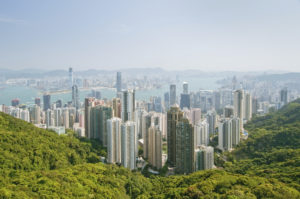 Arrival in Hong Kong
All pets must arrive as what is referred to as "manifest cargo", not as excess baggage or in cabin. Exceptions are only for pets flying in on a private jet, or for what's referred to as Disability Assistance Dogs (DAD)- these are "a dog that has been trained to help people with physical disabilities to gain more personal independence" and certification and proof needs to be submitted to Hong Kong Government to assess on an individual basis. There are lot of specific rules and testing to grant this status. Emotional support animals are not recognized by the Hong Kong government and these pets must arrive as manifest cargo.
Pets must arrive as cargo, and they must follow the import permit terms, or they will be quarantined. Our Hong Kong pet relocation service is here to walk you through your pet shipping move and ensure relocating to Hong Kong with your pet is straightforward.
What happens first on arrival?
About 1 hour after your pets arrive, we can get the documents from the airline desk. We then after verification checks on the documentation, are handed over your dogs and cats to us for our supervision. The AFCD (Government department in charge of pet relocation) checks the pet's microchip to see if they match the number of the chip on their documents. They check various documentation including the Airline Certificate (Captain's Affidavit), the Animal Health Certificate, and the Vaccine certificates- as well as proof that the animal has been continuously resident in the country/place of origin during the preceding 180 days prior to export or since birth or for the entire period since the animal was directly imported from Hong Kong.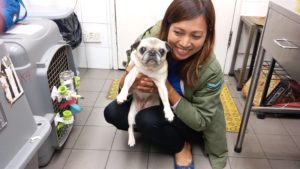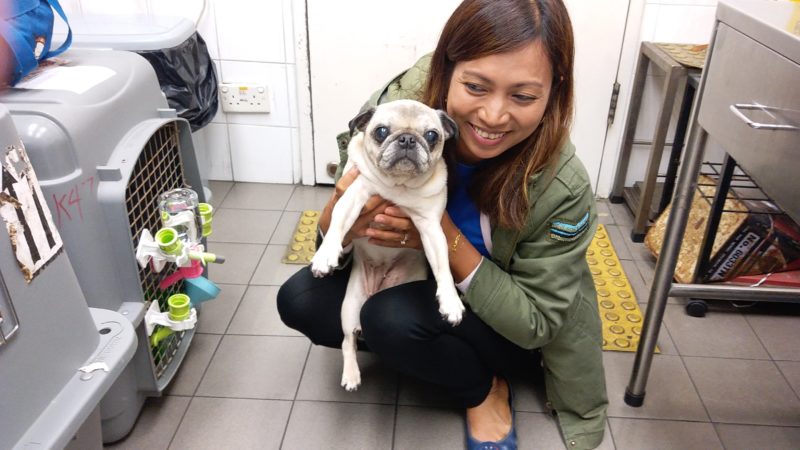 How to avoid quarantine when coming to Hong Kong from Mainland China or other group 3 country.
Unfortunately, there is no way to avoid quarantine when coming directly from China to Hong Kong.
The only other option is for your pets to travel to another country (Canada, UK, USA etc), stay there for a minimum 6 months then be imported into Hong Kong. However those countries may have their own quarantine rules to be applied to your pets.
Banned Breeds of Dogs in Hong Kong
The Japanese Tosa, the Pit Bull Terrier (also known as the American Staffordshire Terrier), the Fila Braziliero and the  Dogo Argentino (as well as any crossbreeds of these 4 breeds) are not allowed to be imported into Hong Kong as these are considered dangerous animal breeds by the Hong Kong government.
Quarantine procedures for Group 3 pets when arriving in Hong Kong
The pets will be unloaded from aircraft by the Ramp Handling Operators & transported to the appropriate Cargo Terminal (HACTL or AAT  or CPSL).
They will be kept in an air-conditioned Livestock Room at the assigned Cargo Terminal. They stay there for our collection and then the cargo clearance by the Customs and Excise Department. The airline or ground handling agent staff will required to collect the original of the Special (import) Permit, Airway Bill number, personal identification documents from our staff while our driver will go to the Cargo Collection Counter and present the "Shipment Release Form" to the Supervisor for the retrieval of your pets.
Then the Cargo Terminal staff will deliver your pets to the AFCD cargo office, from the Livestock Room.  The AFCD duty officer will here do the documentary check and health check for your pets. When the AFCD staff are happy with your pets on the documentation & health check, your pets will be released for our driver's collection. If they were not Group 3, at this stage the pets can go home with our staff. If Group 3, at this moment, your pet will be transported to the Quarantine centre ( Hong Kong Island or Kowloon, depend on where we booked for). On arrival at the Quarantine facility, the animal will be placed in its assigned accommodation.
During 120 days quarantine, you (or someone you assign)  are allowed to visit your pet.  The person whose visits the pet must be registered by the owner in a document called the "Animal Owner Declaration".When the pets are ready to be released at the end of their stay, we will get informed from the centre about the releasing date.  Our driver will go to the Quarantine Centre to collect your pet and deliver them to your residence.
For a quote for import of a dog or cat or other type of pet into Hong Kong could you please fill out our enquiry form at the below link as we will need pets details.
Click Here For Shipping Enquiry
Our Hong Kong based pet import specialists.
Meet Ferndale's experts behind your pet's move!
Stories and Tips about relocating pets to Hong Kong!
Read experiences of others who moved pets to Hong Kong successfully.