Cat and Dog Relocation & Shipping to Hong Kong
Cat and Dog Relocation & Shipping to Hong Kong
Stress-Free Pet Relocation to Hong Kong
Moving to a new country can be overwhelming, especially when you have your furry companions to consider. At Ferndale Kennels and Cattery, located in Hong Kong, we understand the challenges of relocating with dogs or cats, regardless of their size.
Our goal is to alleviate as much stress as possible from the process, ensuring a smooth transition for both you and your beloved pets. With our expertise in Hong Kong pet relocation services, we aim to provide you with the necessary information and support to help you and your pets settle into your new home quickly and comfortably.
Understanding Hong Kong's Pet Import Categories
Hong Kong, like many other countries, has regulations in place to safeguard against the spread of contagious and zoonotic diseases. This is to prevent the country from admitting diseases which could spread and cause issues with the animal population. 
These regulations also determine whether your pet will be subject to quarantine upon arrival. The categorisation of countries for pet relocation and immigration purposes plays a crucial role in the import process. 
Let's explore the three groups that define pet import to Hong Kong:
Group 1: No Quarantine Required for Pets
If you are coming from Australia, Fiji, Hawaii, Ireland, Japan, New Zealand, or the United Kingdom, your pet will not need to undergo quarantine in Hong Kong, provided you have fulfilled all the terms specified in the Hong Kong pet import permit.
This means that your pet must have had a full health check and sign off from a qualified vet before arrival. If you're in this category, it's great news. You can take your pet home with you on the day you land in Hong Kong.
Group 2: Pet Quarantine Exemption with Conditions
Pets relocating from countries in this group are also exempt from quarantine if all the terms and conditions outlined in the Hong Kong import permit are strictly adhered to. Puppies and kittens from these countries can only be imported at the age of 5 months or older.
The list of countries in this group includes Austria, Bahamas, Bahrain, Belgium, Bermuda, Brunei, Canada, Cayman Islands, Cyprus, Denmark, Finland, France, Germany, Gibraltar, Guam, Iceland, Italy, Jamaica, Luxembourg, Maldives, Malta, Mauritius, Norway, New Caledonia, Papua New Guinea, Portugal, Seychelles, Singapore, Solomon Islands, Spain, Sweden, Switzerland, The Netherlands, Taiwan, USA (continental), Vanuatu, and the Virgin Islands.
If you're travelling from one of these countries and you have a pet that is younger than 5 months, you will need to wait until they're old enough to get a flight and come and join you.
Group 3: Mandatory Quarantine for Pet Travel
All countries not mentioned in groups 1 or 2 fall into this category. Pets arriving in Hong Kong from group 3 countries must undergo a 120-day quarantine. However, it's important to note that quarantine spaces for dogs and cats in Hong Kong are currently limited and often booked months in advance. Therefore, it is advisable to expect a waiting period of 5-7 months for an available spot.
If you're travelling from one of these countries, it's important that you plan ahead and book your pet's spot in the quarantine zone well in advance. Otherwise you may need to leave your pet behind and book them onto a later flight, which could increase the amount of time that you're away from them even further.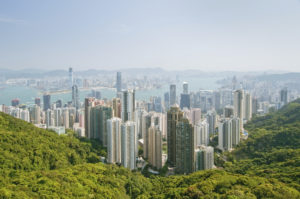 Vaccination Requirements for Pets Shipping to Hong Kong
To ensure the health and safety of pets entering Hong Kong, certain vaccination requirements must be met:
Pets from Group 2 or Group 3 countries must receive a rabies vaccine between 30 days and 12 months before their entry into Hong Kong. Vaccination before the age of 90 days is considered too young, which is why Hong Kong doesn't allow pets younger than 5 months to travel.
For those countries in Group 1, it's likely that your pet is already up to date with the Rabies vaccination, as most vets insist on this for puppies and kittens.
Regardless of the country of origin, all dogs must be vaccinated against canine distemper, infectious canine hepatitis, and parvovirus. Similarly, all cats must be vaccinated against feline panleukopenia (infectious enteritis) and cat flu (feline respiratory disease). These annual vaccines should be administered between 14 days and 12 months before entering Hong Kong.
All dogs and cats must be microchipped with either the ISO 15-digit or AVID 9-digit chip. The microchip should be implanted either before or on the same day as the rabies vaccination. If dogs being transported to Hong Kong do not already have an AVID microchip, one will be provided at Hong Kong Airport.
It's always recommended to get this at your vet before travel. A microchip helps to track down your pet if they get separated from you and can help a vet to identify when and where their latest vaccines were administered.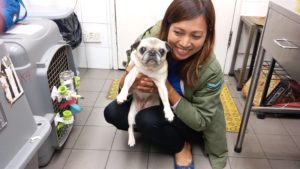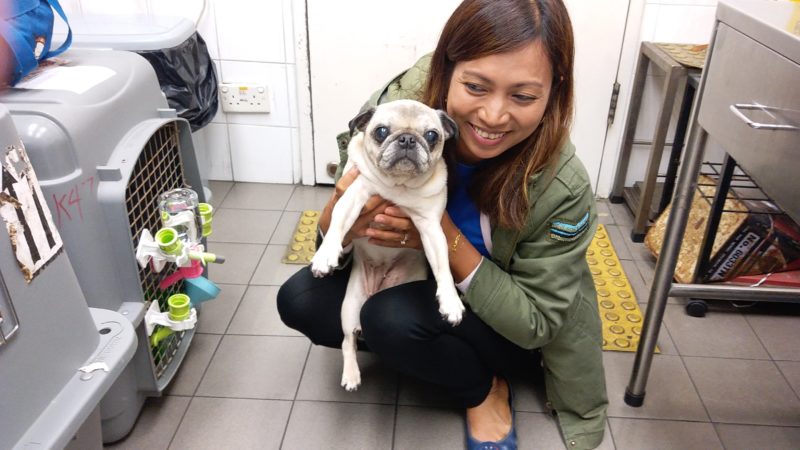 Animal Health Certificate for Relocating to Hong Kong
The Animal Health Certificate required for bringing pets to Hong Kong must meet the specific conditions outlined in the import permit terms. Different countries have varying certificate requirements to support the import permit terms for each group. It's crucial to ensure compliance with these regulations to facilitate a smooth import process for your pets.
The AHC will confirm that your pet is fit and well to travel, state any past health issues that they've had and list any medication that they have previously been prescribed. This shows a clean bill of health for your pet to travel, but can also be crucial information if your pet has a medical emergency during their travel from your home to Hong Kong.
Hong Kong Dog Licence
It's important to note that a Hong Kong Dog Licence is not required for pet travel to Hong Kong. This licence is specifically for dogs staying within Hong Kong and can be obtained at the Cargo Terminals upon arrival.
However, dogs from Group 1 do not require a Hong Kong licence. Cats, on the other hand, are not subject to Hong Kong licensing requirements and can travel more freely.
Import Permit: A Necessity for Pet Import in Hong Kong
An official Special Permit obtained in advance from the Agriculture, Fisheries and Conservation Department (AFCD) is mandatory for importing dogs and cats into Hong Kong.
The permit application process must be completed in person at the relevant Hong Kong Government offices, as there is no online application system available. If you need assistance with the application process, Ferndale can help.
The application typically takes around a week to process, and we can guide you through the necessary steps. Any mistakes could mean that your pet's travel arrangements are delayed.
Quarantine Procedures in Hong Kong
While quarantine is a requirement for Group 3 pets arriving in Hong Kong, exemptions apply to those coming from Group 1 or Group 2 countries, provided all the necessary documents, vaccination records, permits, and health certificates are in order.
If your pet falls into Group 3, upon arrival at the Cargo Terminal, they will be kept in an air-conditioned Livestock Room until our team collects them for cargo clearance by the Customs and Excise Department.
At this stage, pets not subject to quarantine can be taken home with our staff. However, Group 3 pets will be transported to the designated quarantine centre on Hong Kong Island or Kowloon, depending on availability. During the 120-day quarantine period, owners or assigned individuals are allowed to visit their pets, so you don't need to go without them for the whole 4 months. Once the quarantine period concludes, our team will coordinate the collection and delivery of your pet to your residence.
Special Considerations and Banned Breeds in Hong Kong
When relocating pets to Hong Kong, it's essential to be aware of special considerations and banned breeds. Certain breeds are banned due to their perceived dangerous nature or fighting background.
Exemptions and rules may also apply for pets travelling from mainland China or other Group 3 countries, as quarantine cannot be avoided in direct transfers.
The Japanese Tosa, Pit Bull Terrier (also known as the American Staffordshire Terrier), Fila Braziliero, and Dogo Argentino, including cross breeds are prohibited from being imported into Hong Kong due to their classification as dangerous animals.
Ferndale's Assistance and Services
At Ferndale, we offer comprehensive pet relocation services in Hong Kong. From assisting with permit applications to coordinating the logistics of your pet's travel, we strive to make the process as seamless as possible. We can guide you through the necessary steps, assist with documentation, help to make your pet more comfortable during their journey, provide support during the quarantine period if applicable, and ensure your pet's safe arrival and delivery to your new home.
Relocating your beloved pets to Hong Kong doesn't have to be overwhelming. With Ferndale Kennels and Cattery by your side, you can rest assured that your cat or dog's relocation will be handled with expertise and care. Our goal is to provide a stress-free experience for both you and your pets, ensuring a smooth transition into your new life in Hong Kong. Contact us today to request a quote and begin the process of bringing your furry family members to their new home in Hong Kong.
Pet Boarding and Care with Ferndale
If you require temporary accommodation for your pets during the relocation process, we offer top-notch pet boarding services at Ferndale Kennels and Cattery. Our facility is designed to provide a comfortable and safe environment for your furry friends.
We have spacious kennels for dogs and cosy cattery units for cats, ensuring that they receive the care and attention they deserve while you handle the necessary arrangements for their relocation.
Health Check and Vaccinations
Before travelling to Hong Kong, all pets must undergo a thorough health check to ensure they are fit for travel. Our experienced veterinarians will conduct a comprehensive examination of your pet, looking for any signs of illness or underlying health conditions. Additionally, it is essential that your pet is up to date with all necessary vaccinations, including rabies. We will guide you through the vaccination requirements set by Hong Kong authorities, ensuring your pet meets all the necessary criteria.
Transportation Arrangements
We understand that arranging transportation for your pets can be challenging, especially when moving to a new country. At Ferndale, we can assist you in making transportation arrangements for your pets.
Whether you prefer air travel or other means of transportation, our team will work closely with you to ensure a smooth and hassle-free journey for your pets. We can provide guidance on airline requirements, crate training, measurement and preparation, and other logistics involved in transporting your pets to Hong Kong.
We also keep up to date with the most pet-friendly airlines to offer the best transport options available for your pet.
Customs Clearance and Documentation
Navigating the customs clearance process and handling the required documentation for pet import can be complex. Our knowledgeable staff are well-versed in the regulations and procedures involved in bringing pets to Hong Kong. We can assist you with preparing the necessary paperwork, ensuring that all documentation is accurate and meets the requirements of the Hong Kong authorities. Our goal is to minimise any potential delays or complications during the customs clearance process, allowing your pets to reach their new home as smoothly as possible.
Quarantine Support and Coordination
For pets that require quarantine upon arrival in Hong Kong, we provide support and coordination throughout the quarantine period. We understand that being separated from your pets during this time can be challenging, so we strive to make the experience as comfortable as possible for both you and your furry companions.
We can assist with arranging visits to the quarantine centre, ensuring that you can spend time with your pets and monitor their well-being. Once the quarantine period is over, we will coordinate the collection and safe delivery of your pets to your new residence.
Pet Relocation Consulting
If you have any questions or concerns regarding pet relocation to Hong Kong, our experienced team is here to provide you with expert advice and guidance.
We can address any queries you may have about the import requirements, vaccination schedules, quarantine procedures, or any other aspect of the relocation process. Our goal is to alleviate any uncertainties and ensure that you have a clear understanding of the steps involved in bringing your pets to Hong Kong.
Comprehensive Pet Relocation Services
At Ferndale Kennels and Cattery, we provide comprehensive pet relocation services tailored specifically for cats and dogs moving to Hong Kong. We understand that each pet is unique, and their relocation needs may vary. Our team of experts will work closely with you to create a customised plan that addresses the specific requirements of your furry friend, ensuring a smooth and stress-free transition to their new home in Hong Kong.
How Ferndale Can Help with Pet Relocation to Hong Kong
At Ferndale Kennels and Cattery, we are committed to making your pet's relocation to Hong Kong as stress-free and comfortable as possible. Our dedicated staff will go above and beyond to provide personalised attention and care to ensure that your furry family members receive the best possible treatment throughout the entire process.
Our experienced animal handlers can even provide advice on nervous pets or those that suffer from anxiety and will take special care of their well being during the trip. We'll meet them on the ground before the flight and keep you updated on their progress every step of the way, so you can enjoy your flight without the added stress.
Contact us today to discuss your specific requirements and let us assist you in making the relocation of your pets to Hong Kong a seamless and enjoyable experience for both you and your beloved companions.
For a quote for import of a dog or cat or other type of pet into Hong Kong could you please fill out our enquiry form at the below link as we will need pets details.
Click Here For Shipping Enquiry
Our Hong Kong based pet import specialists.
Meet Ferndale's experts behind your pet's move!
Stories and Tips about relocating pets to Hong Kong!
Read experiences of others who moved pets to Hong Kong successfully.