What is a Dog Licence in Hong Kong?
A Dog Licence is a single-sided document issued by the Agriculture, Fisheries and Conservation Department (AFCD). It's a legal document saying you are the registered owner of this dog, and you are legally entitled to possess it.
It confirms that your dog has been vaccinated against rabies.
The law in Hong Kong is, any dogs which is aged over 5 months must be inoculated against rabies, have an AVID type microchip and have this Dog License. Keeping a dog without this license could be fined HK$10,000.
Many people die of rabies worldwide every year (mostly in e.g. Africa and India) and some parts of China do have rabies so Hong Kong S.A.R. has a dog license as a way of managing the rabies control method for this region.
The license in Hong Kong is valid for 3 years and needs to be renewed every 3 years if the owner continues keeping the dog. The dog has to be revaccinated against rabies each time, to renew the license.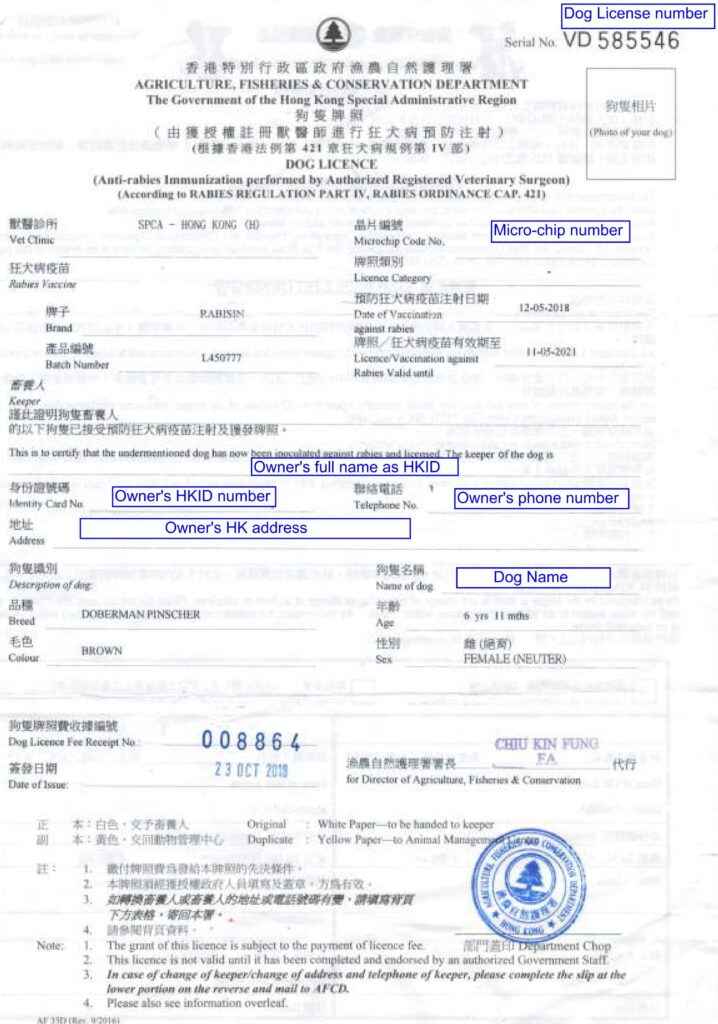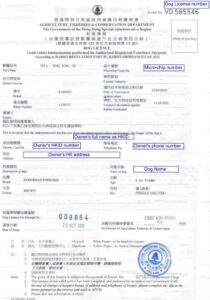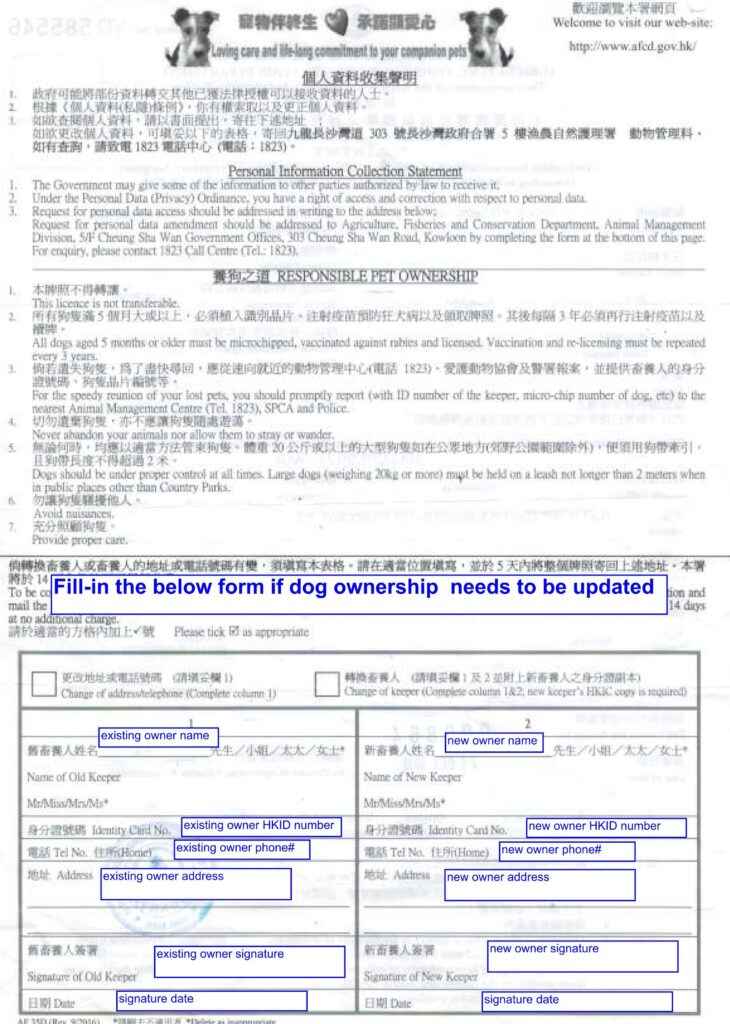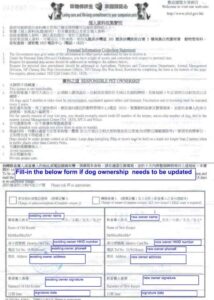 What is the Requirement for a HK dog licence application?
Applicants for a dog licence need to be 18 years old or above and holding a Hong Kong ID card. Only individuals are eligible to apply. A company or joint-ownership is not allowed to register as a dog owner.
What is the dog licence Application Procedure?
Applicant may apply a dog license by the following ways:
See an authorized private veterinary surgeon. The charges and processing time will be depending on the clinic procedure & it's normally take 3-5 months to get the original dog license. Ferndale have our own veterinarians and can arrange this service. We also can arrange a fast-track service.
Alternatively by taking your dog to any one of the Government AFCD Animal Management Centers or Dog Inoculation Centers during office hours. With providing a dog owner's HKID. These are 4 locations, To Kwa Wan, Shatin, Sheung Shui, and Pok Fu Lam. Look at this link for locations.
Many pets get their 1st dog licence and (Hong Kong) rabies inoculation at the airport by the AFCD in the cargo terminals, so dogs (over 5 months of age) coming from overseas will have the dog license created on arrival.
What is the Validity of the licence?
3 Years.
What happens if there is a change of dog owner?
Dog owners needs to inform Agriculture, Fisheries and Conservation Department (AFCD) within 5 days for any changes of dog ownership.
Possible reason for changes in dog ownership are obviously multiple and can   include  dog has been given or adopted by another person.
Document Needed to change ownership of a Dog license
If Holding original valid dog license
Existing and new owner needs to complete and sign columns 1 and 2 at the back of the dog license; AND a HKID copy of existing as well as the new dog owner is required.
If you lost the original dog license
The existing dog owner has to inform AFCD in writing that they agree to change the ownership of the dog.  The letter needs to include full name, ID card no., telephone no., and addresses for both existing & new dog owner.
In addition its required to have the  dog license no., microchip no. together with ID card copies of both existing and new dog owners.
Both existing and new dog owners should sign on this letter.
We are planning to relocate our dog abroad, when should we renew its licence?
Please refer to the rabies vaccination requirements for incoming dogs for your destination country. Ferndale can advise you on the individual destination country requirements. Note to leave Hong Kong, the AFCD also requires your dog licence to be valid, regardless- before they endorse your export health certificate.
What Is An Express Dog License?
An express dog license just means that your veterinarian is rushing through the application for your dog's dog licence. Normally it takes 2 trips to the AFCD for vets to get the dog licence- first to submit the license application, and second to collect the document. To save costs for clients the veterinary clinics normally do this process in batches around every month, and the upshot is that it takes around 3 – 5 months for most clinics to return dog licenses.
We can assist in some circumstances to get it faster, with our staff or the clinic staff going to the AFCD on 1 or 2 special trips to expedite the process so it can be done in a matter of days (for a few hundred dollars surcharge).
Is it License or Licence!?
For the grammatical people out there, a reminder that  license can  be used as a verb or as a noun, (here we talk about a noun) and the noun is where the different spellings come into play. In American English, the noun is spelled the same as the verb—license. But in British English, the noun is spelled licence. Hong Kong follows the British English. Apologies for any typo's!
We also can help with pet dog licences, and other shipping services. Please fill in the link!
Click Here For Shipping Enquiry