Cat and Dog Relocation & Shipping to Vietnam
Can I Take My Pets to Vietnam With Me?
Yes, of course you can. In fact, if you're planning to be in Vietnam for a long time, it's a great idea to take them with you. They'll miss you if you leave them behind. It's an adventure for them just as much as it is for you and they'll love the chance to share the experience with you.
However, there are a few things that you'll need to consider when travelling to Vietnam with your pet, so don't rush into anything. We'll talk you through the process.
Will Flying Stress My Pet Out?
Unfortunately, yes. The process of flying will naturally stress out animals as it's something new that they may not understand. You'll need to learn how to look out for the signs of stress and minimise it as much as possible.
• Make sure that they have enough space to move about.
• Make sure they always have access to water.
• Ensure that they have something  familiar with them as a comfort.
When travelling on airlines to Vietnam, there different requirements for pets depending on the airline, talk to us for advice.
Microchipping
In lots of countries it's essential to microchip your pet prior to entering. This allows the authorities to identify your pet and where they came from, should they get lost or be disallowed travel. For to travel to Vietnam, this also is required for the identification and the government legal processes.
Microchipping can be a costly exercise but we would always recommend it as external identifiers such as collars or tags may be removed or fall off- and the number is also required to be entered on the Health Certificate form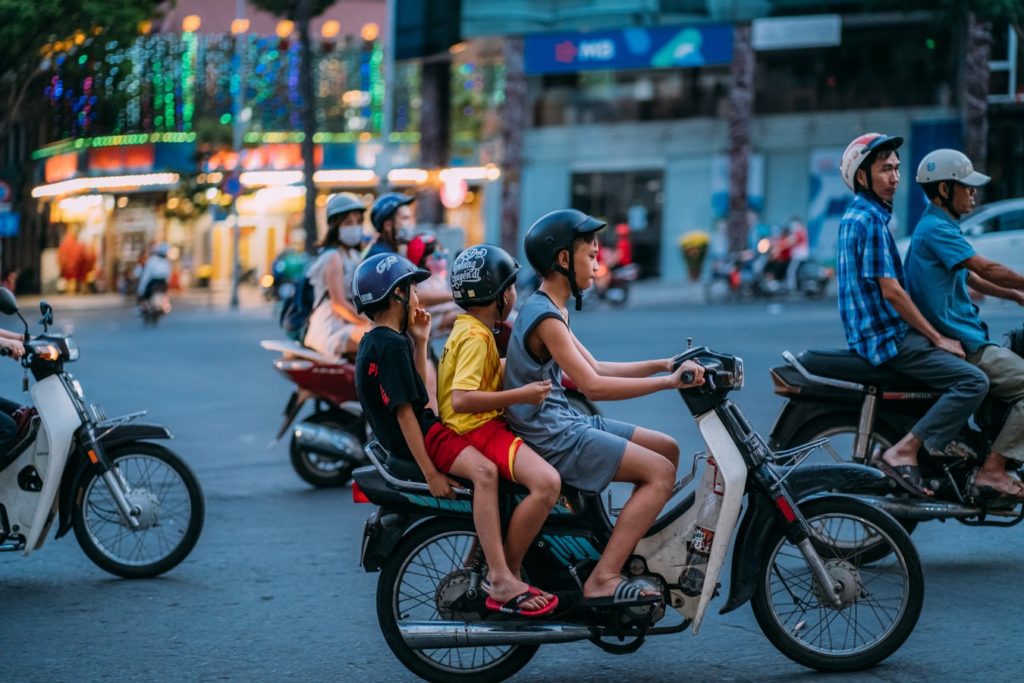 Healthy Pets
Like every country, Vietnam must ensure that your pet has a clean bill of health before you enter. Dogs must have a rabies and parvovirus vaccine and dogs, cats and ferrets must be subject to tick and tapeworm treatment 7 days prior to travelling.
For dogs it's also advisable to have them vaccinated for distemper, leptospirosis and hepatitis, as these are diseases often picked up by dogs in Vietnam.
For cats, vaccinate for feline distemper and calicivirus.
If you have a smaller animal, they will still need to go through a health check from a certified vet prior to travel. Any sickly-looking animals will be stopped at the border and won't be allowed into Vietnam.
After your pet has had all their vaccinations and a full health check, your vet can provide a health certificate to allow you to travel abroad. This needs to be dated no more than 7 days prior to your travel date, so plan ahead to make sure you can get in at the right time. You will always need this with you when entering or leaving Vietnam, so make sure you carry it in the airport.
Other Important Documents
So, you've packed your pet's health certificates listing all their vaccinations, but what else do you need?
• Import Documents
Vietnam, unlike a lot of other countries, doesn't require an import permit for your pet if you're just travelling with one dog or cat. They can travel freely as long as they have a clean bill of health from your vet. So, that's one box ticked. However, if you have more than 2 dogs or cats or more than 3 of any other animal, you will need to investigate this further.
• Pet Passports
That's right, your pet needs a passport or paperwork to fly to Vietnam, just like you do. Having their own vaccine cards or passport allows the receiving country to see immediately that your pet is fit and well. It also exempts them from any lengthy pet quarantine in Vietnam, meaning they can travel on to your destination immediately with you.
The passport or vaccine card is much like yours; it gives the authorities more information on who they are, who they belong to and which countries they've travelled to.
Your vet will be able to fill in the vet documents with you once all the correct vaccinations have been administered and it'll last for the duration of the rabies vaccine.
• CITES
Vietnam doesn't allow the import or export of protected species, which is great. However, that does mean that if you have a more exotic species i.e., an exotic reptiles or birds, then you will need to prove that you aren't travelling with a protected species.
An additional permit may be required from the Convention on International Trade in Endangered Species to show that your animal is specifically a pet and not for trade and that it isn't an endangered species. If, for any reason, you do have an endangered species as a pet, for example, if you're part of a rescue or rehab program, then you may not be able to travel to Vietnam. Please consider this before you take the plunge!
Getting all these documents together along with the stress of packing up your own home and the worry of starting out in a new country can be overwhelming. Ferndale can help you with your pet relocation. Using a company that knows the ropes and understands the documentation can really help smoothen the process for you, so give them a try rather than organising everything yourself.