Cat and Dog Relocation & Shipping to Cambodia
Living with Pets in Cambodia
If you're thinking of moving to a different country, the most upsetting thing for most people is the thought of leaving their furry friends behind. It's something that no one wants to have to deal with and is distressing for both the owner and pet.
The good news is, we are an organisation that specialise in helping you to transport your pets overseas, so you can take them with you wherever you go.
Cambodia is a beautiful place to live and as part of an ex-French colony, they are adapted to European living, meaning it's actually fairly easy to transport or live with your pet there. You just have to follow the right processes and understand the environment that you'll be living in.
Because we want to make it as easy as possible for both of you, we've answered some of the most important questions below:
Am I Able to Relocate to Cambodia with my Pet?
Yes, Absolutely! There's actually less paperwork needed to move your pet to Cambodia with you than some other destinations. You'll need to obtain certificates for all your pet's vaccinations and also for their registered microchip. We will require a copy of your passport to match your pet's details to you.
As a trusted pet relocation service, we can help you get your pet through customs first time with no hassle. It's recommended to use a professional service to ensure minimal stress for both you and your pet.
Does Cambodia have Suitable Housing for my Pet?
We're sure you'll have considered your accommodation before you move and that you're not planning to just show up and go with the flow. There are a few types of accommodation in Cambodia:
Rural
80% of the housing is rural. These are usually buildings made of wood that are placed above ground level on stilts to avoid mud slides. If you're looking to adopt a larger dog into your family, then this kind of housing could be perfect. They'll have lots of space to run around and exercise and they might even make great guard dogs.
If it's rural housing that you're looking at, you'll need to take a few precautions:
Make sure that your land is secured by a fence. This keeps your dog on your land so they don't get too curious and wander off. (New sounds and smells can be so fascinating that they wander and forget their way home).
Fences also keep your dog away from any plants that might be poisonous and from wild animals.
For these same reasons, your dog will need to live inside the house with you at night. Don't allow them out alone!
As you can imagine, rural housing isn't great for a cat. It's hard to keep a cat within the confines of a fence. They'll do what they want and no one will tell them not to!
The remaining 20% of housing in Cambodia is Urban.
You could reside in:
These are larger houses on the outskirts of the cities. They'll often have garden space and lots of rooms inside. These homes are ideal for both dogs and cats of any size. They have the best of both worlds in that they have lots of space to explore and exercise, but also have a nice, safe home to return to at night. Pets living in this type of housing are less likely to come into contact with wild animals and therefore, will be less exposed to diseases. If you're living in this type of house, that's a box ticked.
Similarly, apartments are clean and suitable for pets. However, as they are limited on internal space and have little, or no outdoor space, a larger dog won't be suitable. Cats do great in apartments as they can stay inside and stare out of the window to judge others outside – their favourite pastime.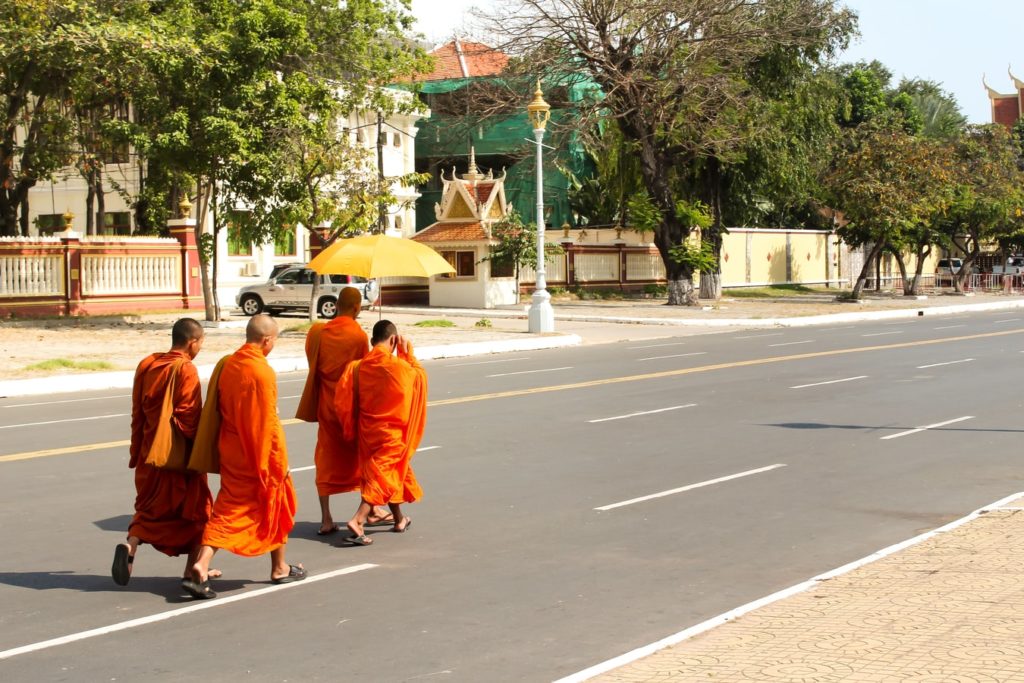 Are There Any Health Issues I Need to Consider?
If you're only planning to be in Cambodia for a couple of months, then taking your pet with you may not be worth it. By law you'll need to vaccinate dogs and cats for rabies and there is significant paperwork and costs involved also. Please also bear in mind that travel can be stressful for your pet , so it's only recommended to travel with your pet if you're planning a stay of over 6 months. Especially as you need to consider your next destination and if there is any quarantine for pets coming from Cambodia.
Items needed for travel?
It's also a legal requirement when travelling abroad to have your pet registered with an ISO-compliant microchip so that they can be identified, should they go missing.
Additional vaccinations that your pet must have include:
Cats – Herpesvirus, Panleukopenia and Calicivirus.
Dogs – Distemper, Hepatitis and Parvo virus.
Your pet may already have these inoculations, but you'll need to prove it with certificates when you travel.
I Don't have a Pet, but I'm Thinking of Getting one
If you know you're moving to Cambodia in the near future and you want a companion, why not consider adopting one while you're there? There are 1000s of stray dogs and cats just waiting for someone to love them.
Your best bet might be to go to a pagoda. Most abandoned pets end up at a pagoda and are fed by monks or charities that fund them. If you ask the monks they're usually more than happy for you to take a stray home if they know that they'll get a good home. Plus, they're normally free, or subject to a small donation. Make sure you take a stray to the vet immediately to ensure they're fit and healthy and up to date with inoculations.
Before you take the leap, make sure that you're settled in accommodation and that can support the pet that you'd like. You also need to ensure you can take your pet with you if you're planning to move away from Cambodia again. Remember, vaccinations are key! Remember dogs and cats usually live around 15 years and a dog is for life, not just for Cambodia.

Click Here For Shipping Enquiry