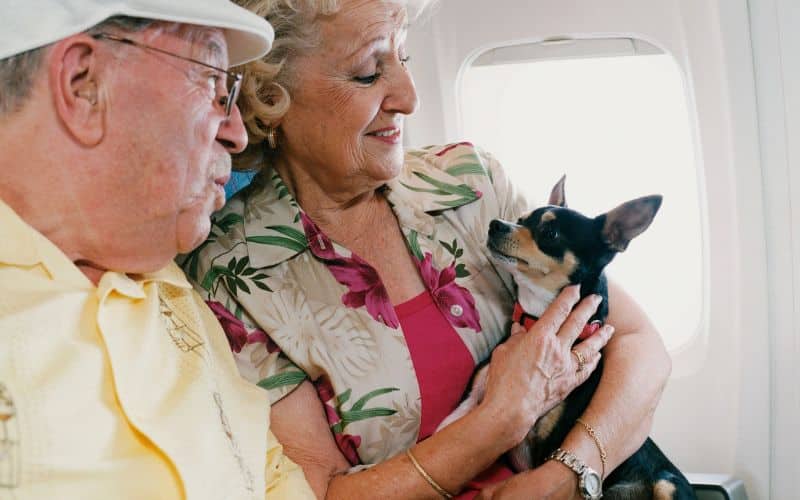 Are you wondering, "Can you take your dog on a plane in Australia?" Australia is pet-friendly, but flying with your dog can take some work. You can only take your dog in the plane cabin to Australia with you if it is a service dog. Each airline has its own rules and restrictions regarding transporting dogs to Australia. While it is technically allowed by the Civil Aviation Safety Authority (CASA) for dogs to fly in the cabin with you in Australia, no regular airline currently allows it. This means that most dogs need to travel in the cargo. Hundreds of thousands of pets travel by cargo internationally every year, it's a safe process as long as the pets have been pre-screened by a vet before travel and have been crate trained. The cargo hold is temperature-controlled and safe for animals.
In this article, we will cover everything you need to know about taking your dog on a plane in Australia. We'll also outline the pet policies of the major Australian domestic and international airlines, including Qantas, Virgin Australia, Jetstar, and Rex. With the correct information, your dog can enjoy exploring Australia alongside you.
Can Dogs Fly in the Cabin to Australia?
In December 2021,  the Civil Aviation Safety Authority made the rule to allow pets to fly in the cabin if airlines allow it. However, till September 2023, no domestic and international airline has yet allowed dogs to fly in the cabin to Australia. While travelling to the USA or Europe, you can see pets flying along with their owner in the cabin. But in Australia, only service dogs trained to assist their owner are allowed in the cabin. Except for the service or assistant dog, all the other dogs must travel as "cargo." 
Which Airlines Allow Dog Travel in Australia?
When flying with your pets to Australia, you'll have several options for airlines that allow dogs and cats in the cabin or cargo. It's essential to know which airlines allow pet travel and understand their specific requirements:
Qantas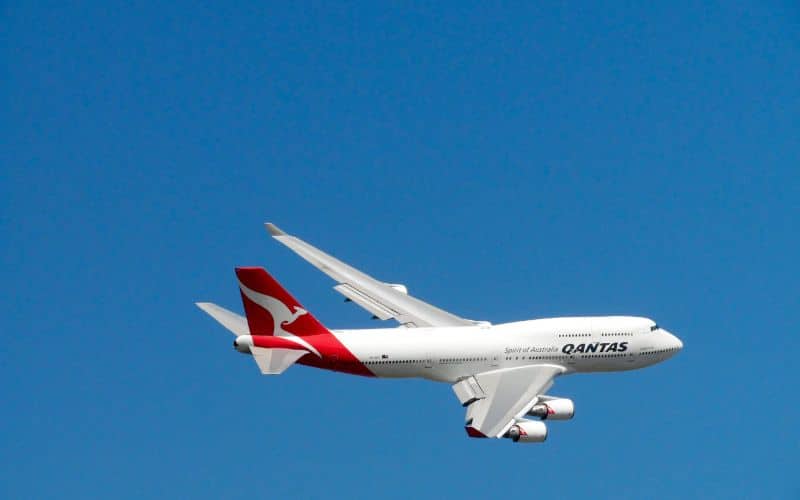 Qantas is the most popular airline for pet travel in Australia. They allow domestic and international pet travel, guaranteeing your pet's safety and comfort. Qantas only allows service dogs and assistant dogs in the cabin. All the other dogs need to fly in the cargo. In Qantas flights, the temperature and noise of the cargo are the same as that of the cabin. Qantas suggests you book your pet's flight before yours, as there can be restrictions around which flights dogs can fly on.
Virgin Australia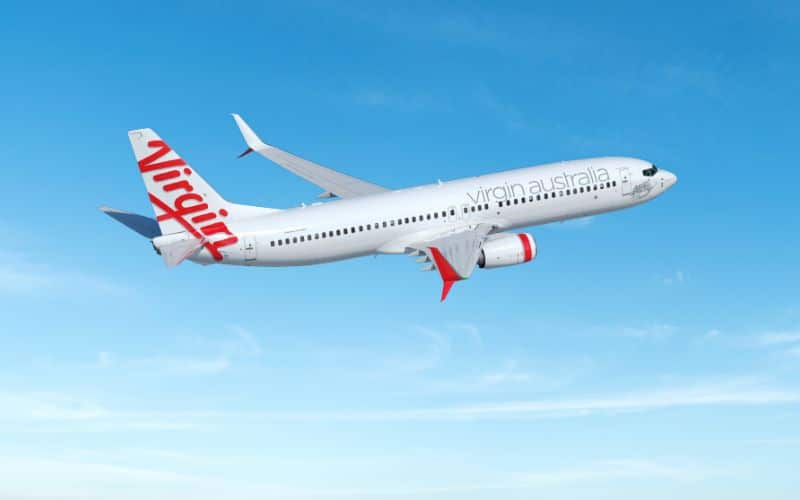 Another airline that allows pet travel in Australia is Virgin Australia. They allow pet travel on domestic flights with appropriate arrangements. For your pet to travel in Virgin Australia, your dog must be eight weeks old, healthy, and treated for parasites. Also, your dog's weight, including the container, must not exceed 65 kg.
REX Airline(Regular Express)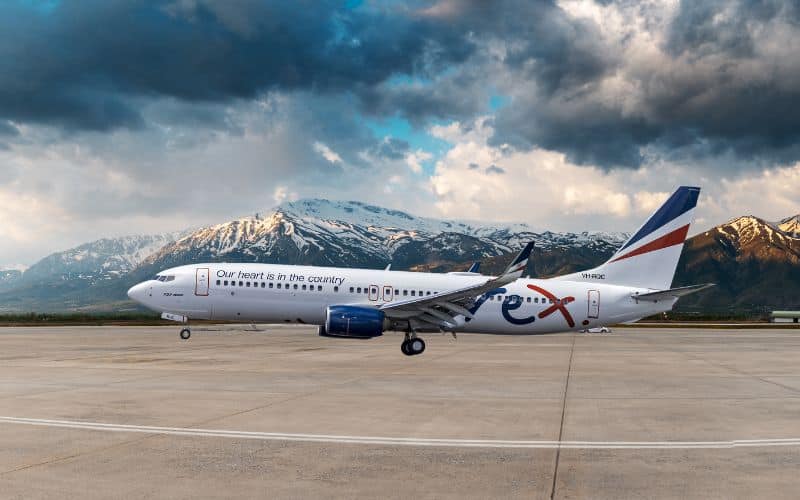 Rex Airlines, known for regional travel in Australia, also permits dog travel on domestic routes. REX does not allow pets in the cabin at all. The only way to fly dogs via REX is excess baggage, which is the same as flying heavy bags. Due to the smaller size of their planes, the maximum weight limit of your dog and crate is 30kg. Of course, any of these regulations can change at any time, so do check with the airline or pet transport company each time.
Airline Requirements for Dog Travel
The requirements for Dog Travel vary with the airlines and the location you're importing from. But there are specific requirements that are similar to almost all the airlines flying to or within Australia:
Your dog must be healthy and fit

Dogs must travel in International Airport Transport Association IATA-compliant carriers sized with appropriate size

The weight of your dog and the crate must not exceed 65kg

Pets must be microchipped, and the chip number must be listed on the health certificate

Airlines often have minimum age requirements, such as 8 weeks for puppies and kittens

Advance quarantine booking is required for overseas imported pets

Your pet must not be heavily pregnant and aggressive.
Can All Dogs Fly to Australia?
Certain dog breeds banned in Australia are not allowed to fly on the plane. These dogs are prohibited from being imported to Australia. These dogs are even forbidden from flying domestically. The banned dog breeds are:
Japanese Tosa

Dogo Argentino

American Pit Bull Terrier

Fila Brasileiro

Perro de Presa Canario
Where Do I Drop Off and Pick Up My Dog?
The pickup and drop-off place for dogs may vary from airport to airport. But most of them are located in the cargo terminal area. While dropping off your dog at the airport, it's better to reach the airport well before 1-2 hours of departure. If you send your dog to Australia from overseas, it's better to drop them off 2-3  5  hours before departure or in line with the recommendations and requirements of the cargo terminals and airlines. Arriving early helps the airline team to check your dog's health and overall condition properly. During the pickup, we recommend you arrive 60- 90 minutes after their flight arrival as this is a long clearance process at the airport as many steps to be done by the airline and ground handlers and customs officials, etc. 
Conclusion
To conclude, you can take your dog on a plane in Australia. Still, being well-prepared and informed about the specific regulations and guidelines that apply to your situation is essential. Your furry friend's safety should be your top priority whether you're travelling domestically within Australia or internationally to and from the country.
The process of taking a dog on a plane in Australia is quite lengthy and complex. We understand that you might need more time to research all the Australian guidelines and airline policies. So our pet relocation company is here to assist you. Your dog's happiness and safety are our top priorities, and we look forward to helping you in your pet relocation journey to or within Australia.
Frequently Asked Questions
Which airlines allow pets in cabins in Australia?
Qantas Airlines allows service or assistance dogs in a cabin. These dogs must be trained to assist or perform tasks for the pet owner with disabilities.
Can I take my dog on a Jetstar flight?
No, Jetstar is not equipped for pet transportation. Instead of Jetstar, you can book a flight from Qantas, REX, and Virgin Australia Airlines.
What type of pet crate should I use for air travel in Australia?
Your pet must be transported in an approved pet carrier or crate that meets IATA standards. These carriers should be well-ventilated, secure, and appropriately sized for your pet.
Do I need to microchip my dog before travelling to Australia?
Yes, most airlines and Australian authorities require that your dog is microchipped, and it should be registered with your contact information.
How far in advance should I plan for pet travel in Australia?
Planning well in advance is important for pet travel to Australia. It's recommended to start preparations at least seven months before your intended travel date as there are a lot of requirements to meet, like health certificate, import permit, vaccinations, etc.